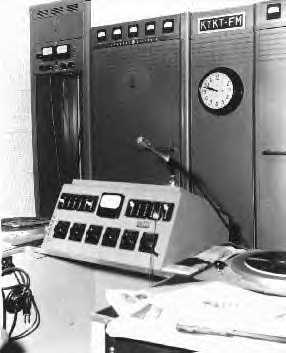 Before TV there was radio. I feel fortunate that I grew up in a time before the lighted box became the central media force in the home. We didn't get our first television until my Dad brought one home to watch the 1950 World Series.  So, for the first 9 years of my life, I knew what it was like to depend on radio for entertainment.

    We would sit and "watch" the radio. I loved all those great old shows, especially the westerns. Every day after school there was "Bobby Benson and the B Bar B Ranch."  When I was home sick from school I could listen to all those daytime soap operas like Ma Perkins, Helen Trent, and Our Gal Sunday. Also, The Arthur Godfrey Show. At night would be the favorites Jack Benny, Fred Allen, Amos n Andy, and Gangbusters.

    In 1949 a neighbor down the street got the first TV set. It was an Admiral with a 7" screen and a large magnifying glass in front.  They set up folding chairs in the living room and everybody would go over on Tuesday night to watch Milton Berle and the Texaco Star Theatre. It was the beginning of the end of radio as we knew it.

   In the early to mid-fifties, all the dramas had moved to TV, leaving radio with mostly disc jockeys playing records. Rock and roll came on the scene and there was a new radio format...it was called Top Forty.  I loved it.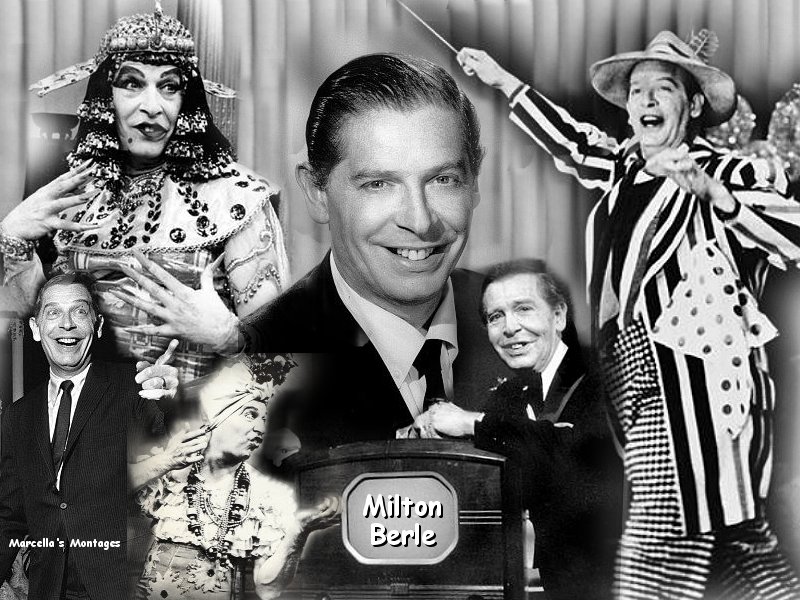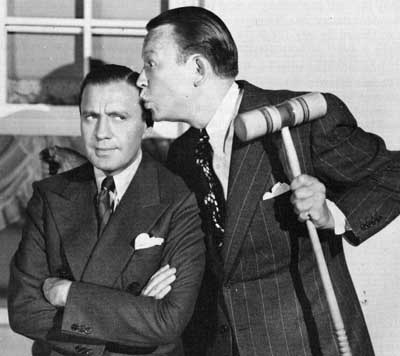 JACK BENNY AND FRED ALLEN HAM IT UP ON RADIO.

MILTON BERLE "UNCLE MILTIE" STARRED IN THE  FIRST BIG SHOW ON TV.

    In my sophomore year in high school, the end of 1956, the family moved to Tucson, Arizona. The number one radio station in town was KTKT and it was great. It was a top forty format and had great disc jockeys like Chris Borden, Buck Herring, Bob Sinclair, and Frank Kalil. My best friend Burt Schneider and I would spend hours practicing our "disc jockeying" technique with his home tape recorder. At the new Catalina High School we would do announcements on the PA system and played records for the kids in the lunch room.

    There were two types of radio. AM and FM. In the 50's AM was the biggie. Hardly anyone had an FM radio. Oh, maybe a few intellectuals who liked to listen to classical music, but that was it. In Tucson there was one FM station, KTKT-FM at 99.5 on the FM dial. It was owned by the top forty giant, KTKT, and largely neglected. The only paid person at the station was Dr. Lambert, a professor at The University of Arizona. He programmed the music and got announcers to work...for free.

    In the spring of 1957 I got a lead that they were looking for some announcers at the station. I applied and got the job. I told Burt about it. He applied and got one, too. Our shifts were on weekends and the pay was zero. Zed, zilch. You worked for experience so "someday you could enter the highly paid world of professiona disc jockeys on a station where folks really listened."  

    One small problem: we lived way on the east side of Tucson and the station was on the west side. We were only 15 and couldn't drive yet. Good old Mom. My mother used to drive us to our shifts.

THIS WAS THE CONTROL ROOM AT KTKT-FM AND THE FIRST "BOARD" I EVER WORKED AS A DISC JOCKEY. IT WAS 1957.

    But, we were disc jockey!! My folks had to go out and buy a radio in order to listen. And, that was not easy to find. We played classical music on the weekends, and we were awful!  First, there wasn't much to say. Popular music tunes may have lasted two minutes, but classical pieces lasted for hours. Really boring. But, the few things we had to say we really made the most of it and screwed it up royally. At least I did. Burt was more erudite than I was.

    I can remember introducing Pablo Casals and his cello.  It was more like Pablo Castles and his Sello. And music by Wagner. No, not VOGner, I mean Wagner. Whew. There was an old lady who lived in the foothills, Mrs. Fischer, who called constantly to correct me. I'm sure she was my only listener.

    Summer came, Mom got tired of driving, and we both quit. It was a great experience for a fifteen year old.

FINALLY, A JOB THAT PAID!

    A buddy of mine from Catalina High, Ted Bowen, had a job as a "prop boy" at KOLD-TV, CBS, in Tucson. These were the days of no video tape. Everything that went out over the air, went out live, just as it was done. Scary business. So in order to put up and take down displays quickly in and between programs, they had a kid on duty and that was his job...put up and tear down displays. Ted was getting ready to graduate and asked me if I was interested.

    Interested? Are you kidding...a job in TV. I found out it even paid money!!  A buck an hour. Heck, minimum wage at that time was about fifty cents. This was big time. I went down, applied for the job and got it. This was the spring of 1958. I just got my driver's license and a car and I needed gas money. I worked about 20 hours a week, nighttime and weekends so it didn't interfere with school.

    One of the shows I specifically remember was the Sunday morning local cartoon program hosted by Herb Lahr. He was the son of comedy actor Bert Lahr who played the lion in The Wizard of Oz. I would rush between segments setting up kids shoes and cookies. Actually the job was pretty boring. Lots of time between shows with nothing to do but sit around...and watch tv.

    This was the golden age of TV, at least in Tucson. We were all learning what to do and how to do it. Nobody knew very much.  In Tucson you either ran network shows live, or you would run in on film, or kinescope, later. Take the Ed Sullivan Show. It ran at 8 in New York, 7 in Chicago, and delayed everywhere else. So when Elvis appeared for the first time, we saw him a week later on scratchy poor quality "kinescopes."  That was basically a camera taking movies of the TV screen.

    I worked here for 3 months, then left to go to Chicago to live with my Dad for the summer.

BACK TO RADIO, BUT NOT FOR LONG...

    When summer was over I came back to Tucson for my senior year in high school. Mom was managing some apartments, so that's where we lived. One of our guests was working at a local radio station. He heard I had some experience and asked if I would be interested in a job after school.  Would I! It was at a small station, KTUC, 1400 on the dial and a lowly 250 watts. Their programming was a mish mosh of talk and musical standards. I didn't care, it was radio.

    The job? I hosted the "Courteous Driver Show."  Every afternoon after school I would go out with a police officer and we would look for a courteous driver; someone who was nice to someone else. Then the cop would stop the person and I would interview them for the program with my portable tape recorder, award them some prizes, and do a commercial for a car insurance company.

    It's not easy to find a courteous driver. After trial and error we found the perfect solution. We would wait by the old Broadway underpass where it went from two lanes to one lane. Someone always had to give way to another driver. That was our courteous driver. Then I would go back to the station with the tape and they would put it on the air piece of cake. Took about an hour and I got paid $5 a day. Hot stuff.

    Several weeks went by with this boffo, socko routine that I'm sure made listeners hang on my every word. It all came to an abrupt halt one afternoon as I wandered in from the road with my newest tape. I ran into the station's general manager in the hallway and he said, "Well, who'd you get today?"

    "Nice Negro man." I said. The terms "black" or "Aftrican-American" were not used in those days.

    A look of panic crossed the manager's face.

    "What gift did you give him," he asked.

    "Dinner for two at Mama Louisa's Italian Restaurant," I replied.

    "Oh, no! You've got to get that certificate back. Call him. Give him some records instead. They don't serve niggers in that restaurant. Go on, get on the phone."

    I was shocked. First, I grew up in all white neighborhoods in the midwest. It just never occurred to me that blacks couldn't enjoy the same things we did. Second, whenever my Dad would hear someone use the "n" word, he would always tell me that everyone was equal and it was just wrong to ever use a racial slur.

    I told the manager that I wasn't going to call the guy, that it was wrong, and I wouldn't insult him like that. I also told him, "I quit."  That was it, I walked out the door and never went back.

    One of my first lessons in the real world. That restaurant stayed in business for years and whenever I drove by I would think about that day. I never ate there.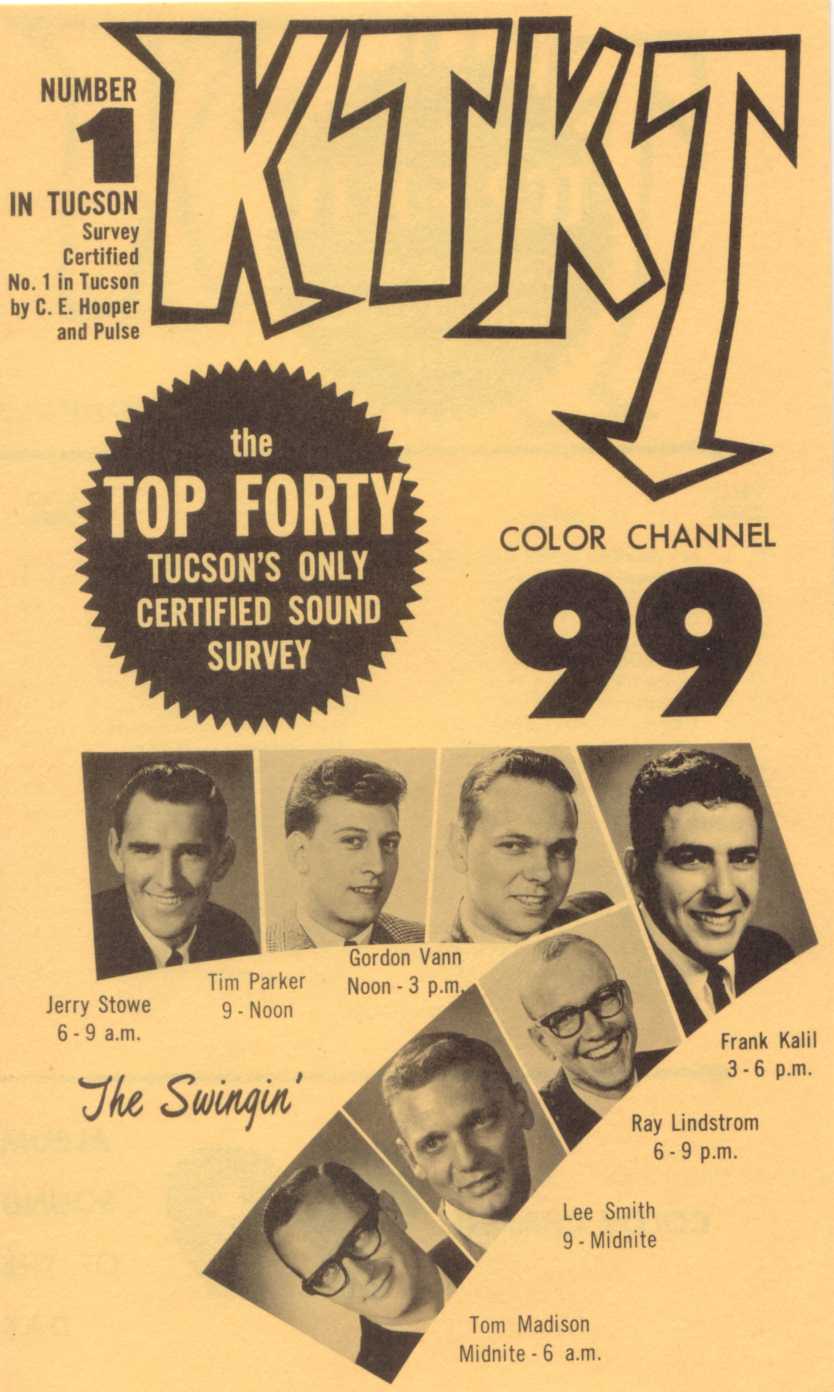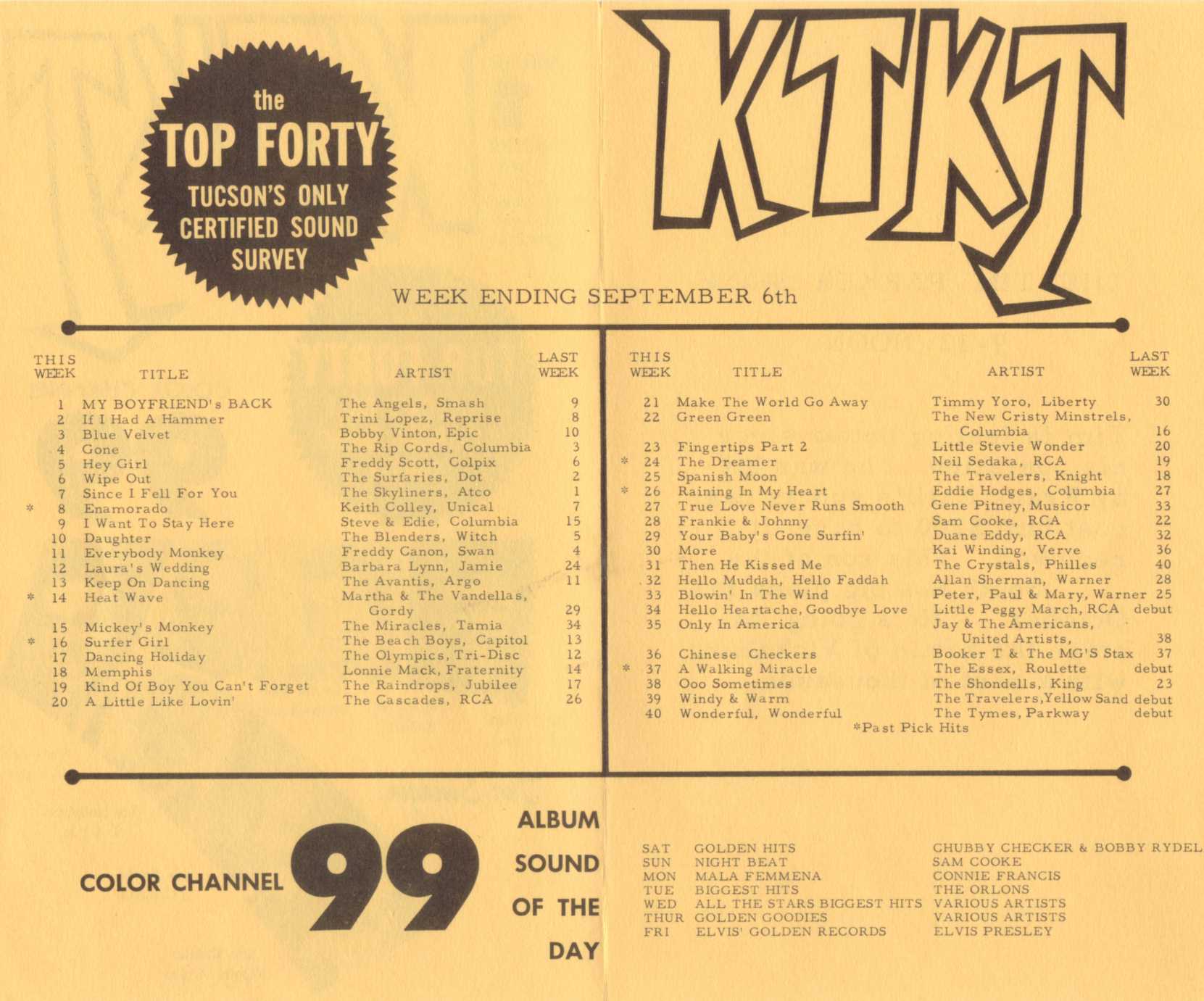 COLLEGE? ARE YOU KIDDING!

NOT WHEN I CAN BE A FULL  TIME DJ.

    I graduated from high school and went to college at the University of Arizona. I was a month into my freshman year and still attempting to promote our latest Zoom Record, Doreen by the Nightbeats.  I discovered, much to my dismay, that in college, unlike high school, you really had to study. What a bummer. That was no fun. I was not even 18 yet and I just wanted to have fun. But, mostly I wanted to be on the radio.

    One fateful Friday night I was at KAIR radio, 1490 on the dial, and close to dead last in the rating books.  I was there to promote our record. I had met the disc jockey, Johnny Hyde, before. He was sick as a dog that night with the flu. He took one look at me and said, "Hey, you've got some radio experience, doncha?" I've got to go home and go to bed, how about sitting in for me tonight on my show?"

    Mind sitting in? Like I would mind a date with Jayne Mansfield?  Like I would mind finding a million dollars?  Mind sitting in, I thought. My answer was affirmative.

    He spent 5 minutes showing me the ropes, "Here are the records to play. Here are the commercials. Here is the program log...play the commercials it shows. Turn the mike on here when you want to talk. The next guy in will be at midnight, in 5 hours. Good luck."

    He walked out and in walked my short, unillustrious career as a disc jockey. What's the first thing I did? I called my buddy Burt.

    "Hey, Burt. Guess what? I got a job as a disc jockey. I'm at KAIR and I'm on the air right now. Come on down and help me. You can do the news."

    Burt came down and we "played radio" that night. It was fun.

    The next day I got a call from the Station Manager. He said I sounded pretty good, and would I like to work full time. Bye-bye college, hello big time radio. Hah!  Well, in just the 2 months I was going to school I was flunking all my courses anyway. The bid time radio station job? KAIR was 250 watts of power, just barely made it past the city limits. And, the format...they'd been through about one a month. The month I started they were playing country and western.

    The manager, Ron Barrington, offered me the 11pm-6am shift. For $37.50 a week. 75 cents an hour.  But, remember in 1959 the minimum wage was just 50 cents an hour. I was awful, but it didn't matter, I had no listeners anyway. I would have contests to give away prizes and nobody would call. Not one call. I had to make up the names of winners.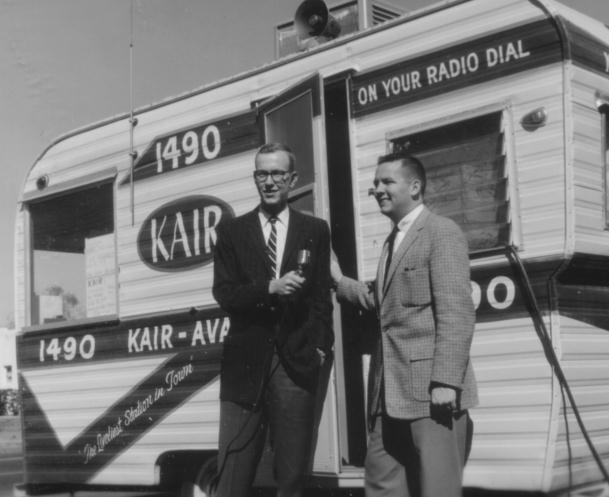 I stayed at KAIR for six months and learned how  to be a disc jockey, albeit a not very good one, but of course, I thought I was really hot stuff. The station struggled and went from country and western to easy listening to top forty. It never had many listeners. I even got a decent shift. After about 4 months I did the 6pm to 12m gig. Not much pay in either time slot although I think I progressed to a buck an hour. Wow. In March I got disgusted and quit. They convinced me to stay. The next week they fired me. It was the only time in my life I was fired and I learned a lesson. When you quit, quit. Don't stay and let you go on their timetable.

    I was out of work and the prospects didn't look good in radio and TV so I delivered flowers for about 3 weeks just to keep eating. Then an old high school buddy, Gary Palant, called and asked if I would like a job in TV. Let's see now, I could either deliver flowers or work in TV. Tough decision, but I decided on TV.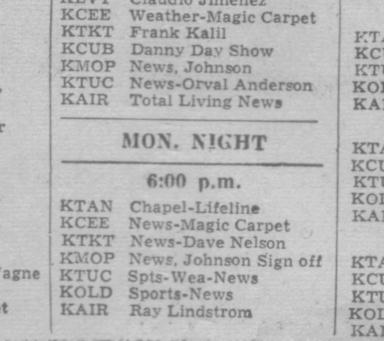 WOW, I EVEN GOT A NEWSPAPER LISTING FOR MY SHOW IN THE ARIZONA DAILY STAR IN 1960. BIG TIME! IT WAS BASICALLY TO LET MY PARENTS KNOW WHEN I WAS ON THE AIR; I'M SURE THEY WERE MY ONLY AUDIENCE.

STILL THE GOLDEN AGE OF TV IN TUCSON...

AND STILL JUST CLOWNING AROUNDING!

    So, in May of 1960 I was hired as an announcer at KGUN-TV, Channel 9, ABC in Tucson. It was still the golden age of TV, defined by that period of time before videotape.  Oh, there was just the beginning of videotape at the networks, but in Tucson it was only a dream. Everything we did was live. We didn't even have an audiotape machine. So, I worked every night from 4pm-sign off. You heard my not so golden tones announce every half hour, KGUN-TV, CHANNEL 9, TUCSON. Exciting, huh.

    I was only 19 at the time, but I always looked older, so I started doing some on-camera announcing in addition to the booth work. During the late movie I would go out in the studio, set up the props, hang the copy next to the camera, open up the lens, put my coat and tie on, and when the red light came on, make the pitch. When the light went off, I took off my coat and tie, closed the camera, put away the props, and waited to do the closing "Star Spangled Banner Announcement."

    Mostly it was sitting around watching TV...all those great Warner Bros. shows like Hawaiian Eye, Bronco, Sugarfoot, Bourbon St. Beat, 77 Sunset Strip, Surfside Six, Adverntures in Paradise, et. al. And, the Untouchables, the number one TV show in 1960-1961.

    The station decided to start a new kids show in the afternoon called Toy Time, sponsored by J.C. Penney. Some genius figured a clown on stilts would be just the right character. Tom-Tom, the world's tallest clown. Paid an extra $25 a week. So, I learned how to walk on stilts...got pretty good as a matter of fact. Did the whole costume; white face, red nose, etc. Told jokes to the kids like, "Hey kids, what is yellow, weighs 1000 pounds, and flies?"  "Two five hundred pound canaries!...let's have another cartoon."  The sponsor finally came to his senses and after Christmas it was cancelled. I was about ready for something new, anyway.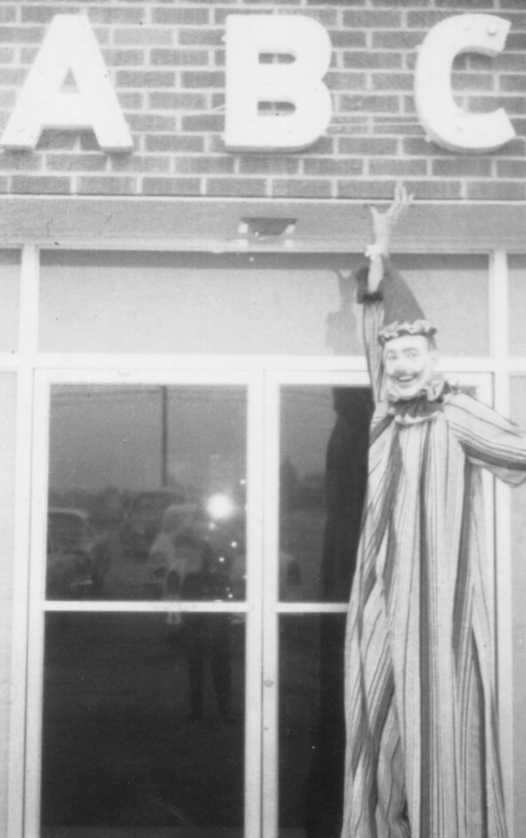 TOM-TOM THE WORLD'S TALLEST CLOWN

AND THE STUPIDEST KID'S SHOW HOST!

BACK TO RADIO AND FINALLY THE BIG TIME! KTKT

    After a summer vacation in Chicago, I was back in Tucson looking for deejay work. I had a couple short stints at KTAN radio playing lots of Montovani and not saying much, and at KOLD radio, the old CBS station. It was the end of network radio as we knew it, but we still had a few left over shows like Arthur Godfrey. The audience was miniscule. But, I was always looking to getting on the town's big rocker, KTKT. And, I bugged the program director, Guy Williams, unmercifully. Finally, I got my chance. Sunday morning from 6-12N.

    I was getting better and was eventually offered the 6pm-9pm slot and the Top Forty show on Saturday 10:30am-3pm. This was DJ heaven. The guiding force at KTKT was Frank Kalil, a real radio genius. The station sounded great. And, best of all, it had over 50% of the audience in a 10 station market.

    When you drove around town, half the cars had the KTKT sticker in the back window.(Below). And, all the record shops had the latest KTKT TOP FORTY CERTIFIED SOUND SURVEY. (Left)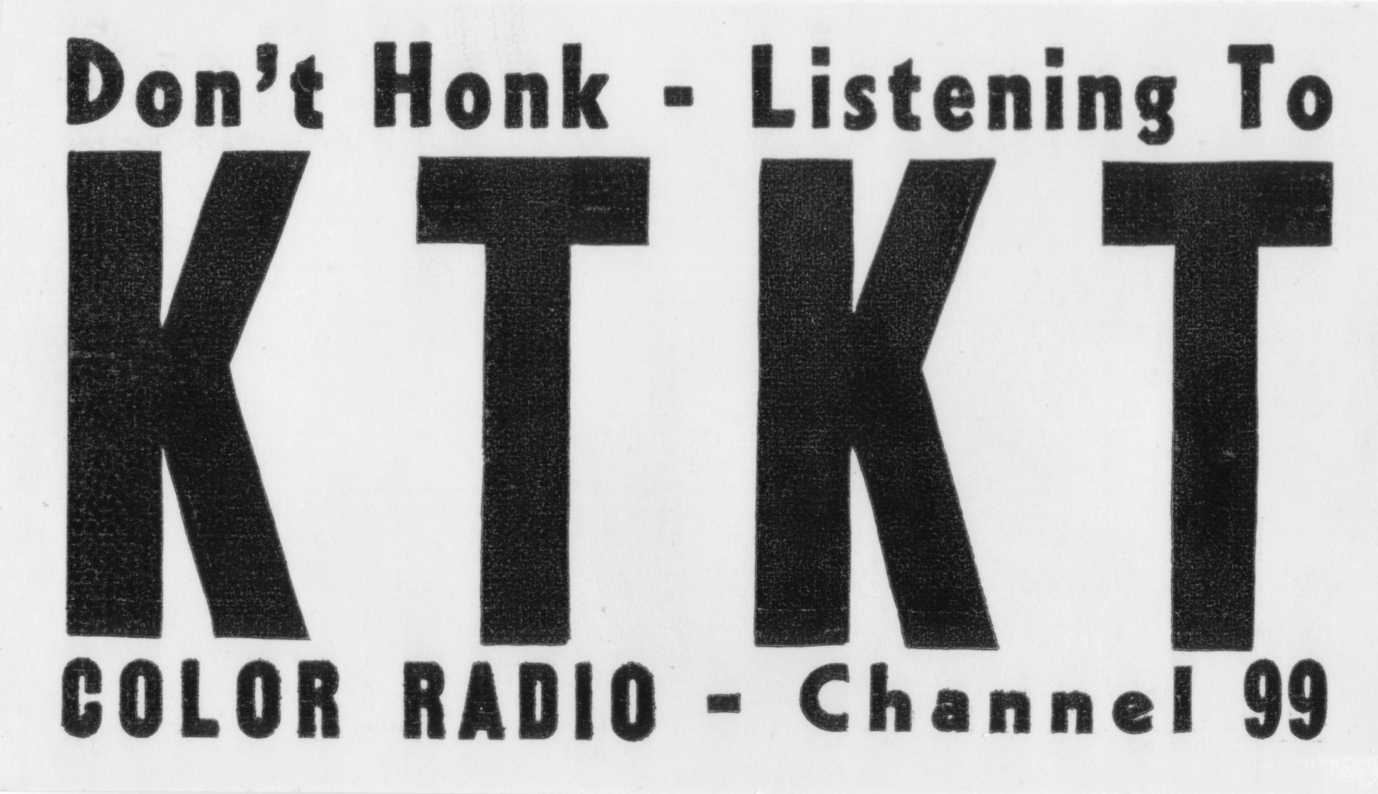 Guy Williams, who hired me, left shortly after I arrived. (I'm sure there was no connection) He went to progressively larger markets and ended up at KMET in Los Angeles where he pioneered FM rock under his real name, David Moorhead.

    I stayed at KTKT from 1962 until 1965 when I graduated from the University of Arizona. I was newly married and decided I needed to do more with my life than be a disc jockey. I wasn't a great disc jockey, so that was a big part of my decision. I was okay, but not great.

    One day the GM Phil Richardson asked me what I planned to do after graduation. I said, I didn't know. He suggested I get into radio sales...selling advertising. Sounded good. After all, how hard could it be selling commercials on the number one station in town?

    Well, considering the other, older salesmen had all the good accounts, it was hard. But, I did okay, and 4 months later was offered a job at their sister sation, KRUX in Phoenix. We packed up and moved to the biggest city in Arizona. 

    As a tribute to the management at KTKT, the first thing I noticed about my new station was...it was not as good as KTKT. It wasn't as sharp or as bright. And, the jocks weren't as good. Looking back at it now, KTKT in Tucson from the late 1950's to the late 1970's (when FM radio took over rock radio) was one great radio station. It was fun to listen to and even better to work there. 

    The disc jockeys were all pros (note their names on the survey). In addition there were Lloyd Couch, Roger Galloway, and Gene Adelstein in the news department. Other jocks included Joe Bailey, Mike Hunter, and Dick Nelson.

KRUX-PHOENIX, HOME OF THE "GOOD GUYS"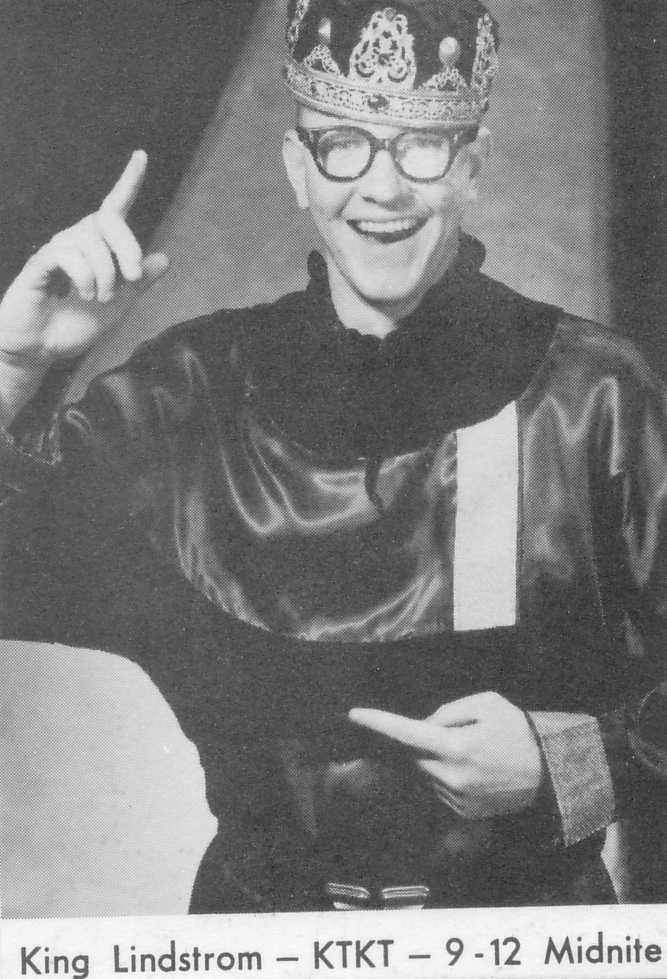 As a jock, one of my schticks was "King Lindstrom" the Emperor of Lindyland my mythical kingdom composed of Tucson and environs. Listeners wrote in and got this official citizenship card.

Want to see the hits from September, 1963? Just click

on the  survey above.

SEE THE CAR WINDOW STICKER ON THE LEFT? IT SEEMED LIKE HALF THE CARS IN TUCSON IN THE 60'S HAD THESE! WHAT A STATION!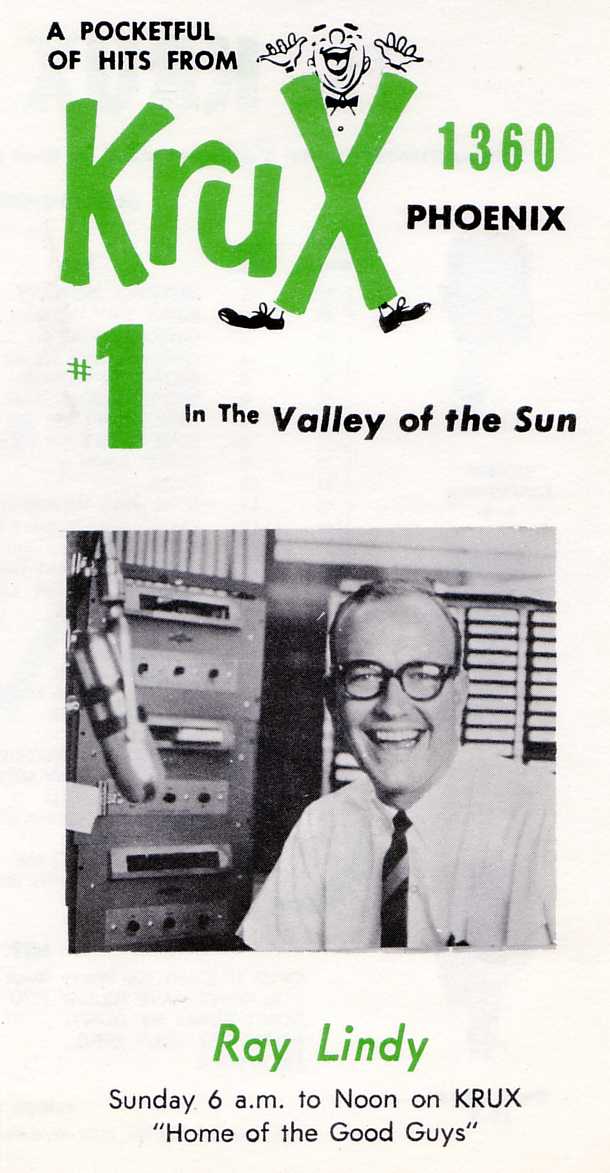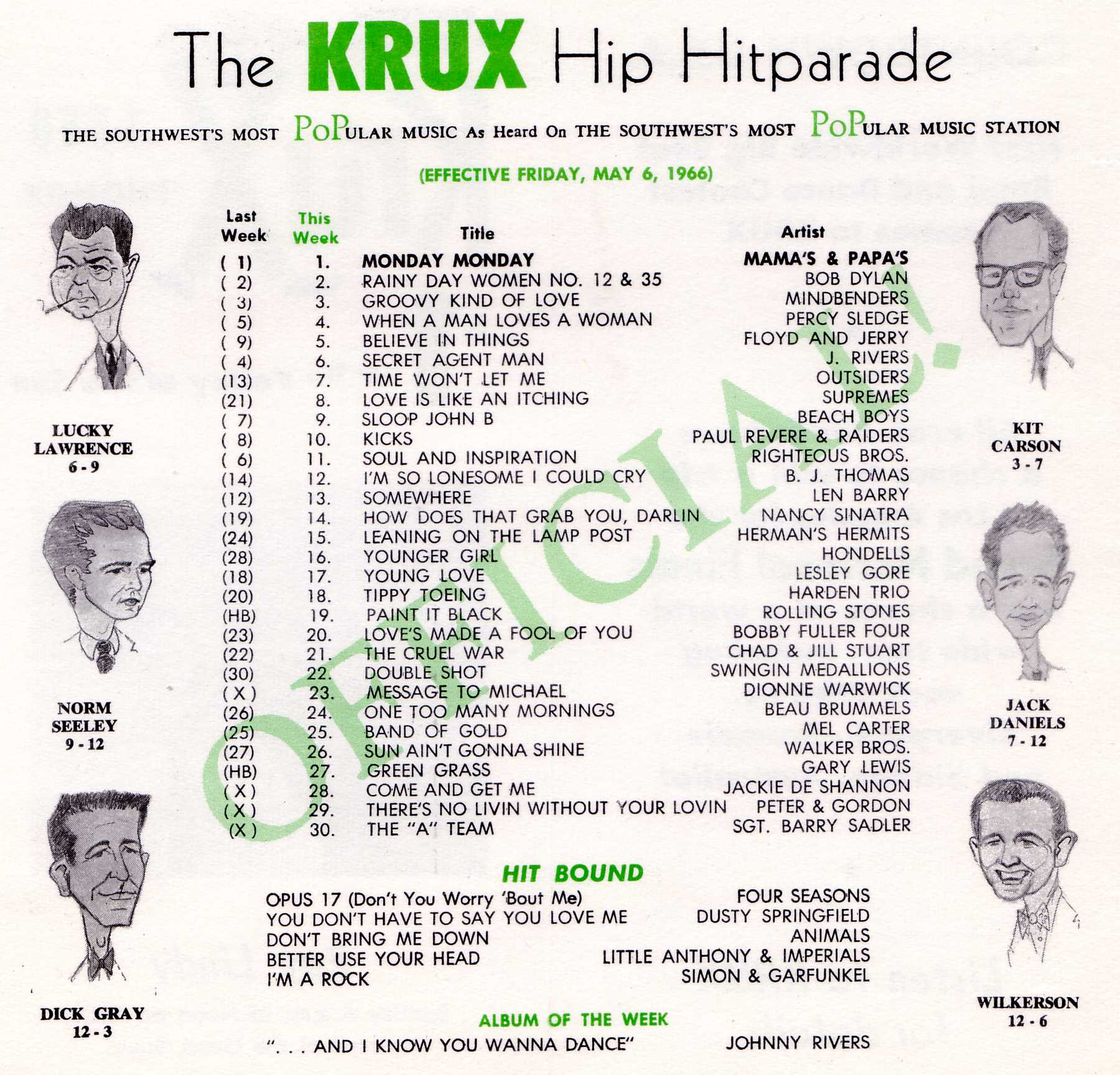 Click below and see caricatures of the KRUX  GOOD GUYS and the top

hits of May, 1966.

    In 1965 I started my radio career in Phoenix, which was the last radio show I ever had.  Al McCoy, Program Director, (now voice of the Phoenix Suns) hired me for a part time gig on Sunday morning 6am-12n. I was a full time salesman for the station so this was a way of picking up a few extra bucks.

    Al didn't like the name I used in Tucson, Ray Lindstrom, which I liked of course because it was my real name. Nobody used real names in those days. You had to have an "air name"; something slick, smooth, and easy to remember. So, he dubbed me Ray Lindy. Witness the name with the picture on the left in a hitparade survey from 1966.

    Who was on the station and what happened to them?

    LUCKY LAWRENCE (Real name: Larry Wright)

    Larry never saw a glass of booze he didn't like. Everyday after work he was on a stool at Kim's Bar. Smoked like a chimney.  Then he found Christ and changed his life. Really a terrific guy. For the last 20 years or so he was an inspiring speaker and leader of the Abundant Life Ministries of Phoenix. He passed away recently.

    DICK GRAY (Real name: Richard Snyder) Real nice guy; good voice. Had marital problems. One New Year's Eve in the late 1960's at a party, found his wife messing with someone else, and tragically ended his life with a garage full of carbon monoxide. He'd been drinking heavily that night and that's what probably caused it. Booze.

   KIT CARSON (Real name: Charles Carson) Somebody says he became a lawyer. I knew him when he was a pilot. Well rounded guy. Lost track of him many years ago.

     JACK DANIELS (Real name: Harold Shumway) AKA Mike Mitchell.  Actually I knew him best by the moniker Mike Mitchell. Mike was, and is a real smart guy. He had his FCC first class license and was a disc jockey at powerhouse KOMA in Oklahoma City for a while in the 60's. He sold time for KUPD in Phoenix also. Then he built 2 radio stations in Wickenburg, sold them, and is now retired. I have contact with him to this day. Probably the richest of all the jocks on this survey.

    WILKERSON (Real name:Dennis Wilkerson. The all night man. Certainly the most well read person on the staff, and had the best broadcasting career. For a while in the 1980's was the leading anchor man for a top Atlanta TV staion. I saw him in the late 1980's when he was a reporter for a San Diego TV station.

SAY, DID I EVER TELL YOU THE STORY ABOUT HOW I GOT GOD FIRED AND REPLACED HIM?

    When I moved to Phoenix and became a salesman at KRUX radio, I was hoping to supplement my income with a little air work. And, that's how I came to replace God on the air.

    What, God? Yes. Here's the story. The jock who had the Sunday morning shift, 6am-12N,  was a guy named Alan Jeffory. He had been in big market radio; great voice. So great in fact that his was the actual voice of God in the movie Ten Commandments. No lie. So, the question was, why would they want to replace a guy with the voice of God for an unknown part-timer from Tucson.         Unfortunately (or fortunately for me), Mr. Jeffory liked to break format by playing the spoons. Management just didn't go wild over a clicking spoon rendition of "Lady of Spain" between The Beatles and Rolling Stones. Apparently they couldn't break him of the spoon playing urge, thus the introduction of Ray Lindy in the Sunday 6am-12N time slot.

    Of course, I always enjoy telling the story of the time I replaced God on the radio because "he liked to play the spoons".


    In 1968 I left KRUX for KTAR-TV, the local NBC-TV station. That was the end of my radio disc jockey career.  It was a great time. I met some terrific people. It was the days of the great top forty stations. In those days you played what was popular, no matter what the format. If it sold, you played it. Your top forty survey could include everybody from The Rolling Stones to Dean Martin to Elvis Presley to Percy Faith to The Trashmen to Frank Sinatra to Chuck Berry and everybody in between.

    Today if I walk into a station to record spots for my business it is like walking into a hospital. Antiseptic. No character. No tapes. Just a computer and a microphone. The good times are gone for good. But, ooooh, they were good!

    I stayed at KTAR until 1972 when I went out to open my advertising agency.  That was my last broadcast job, or any job really. I've been unemployed ever since.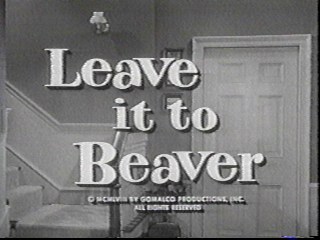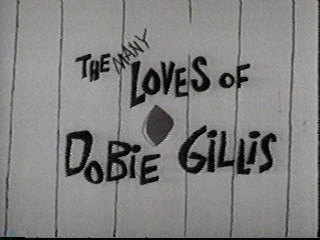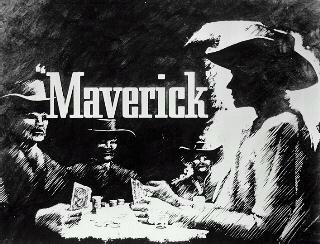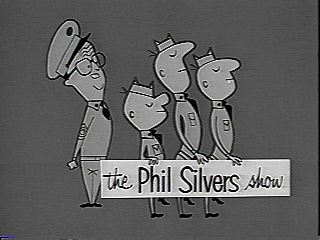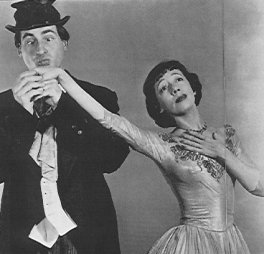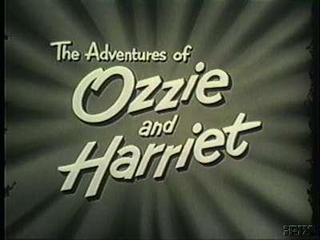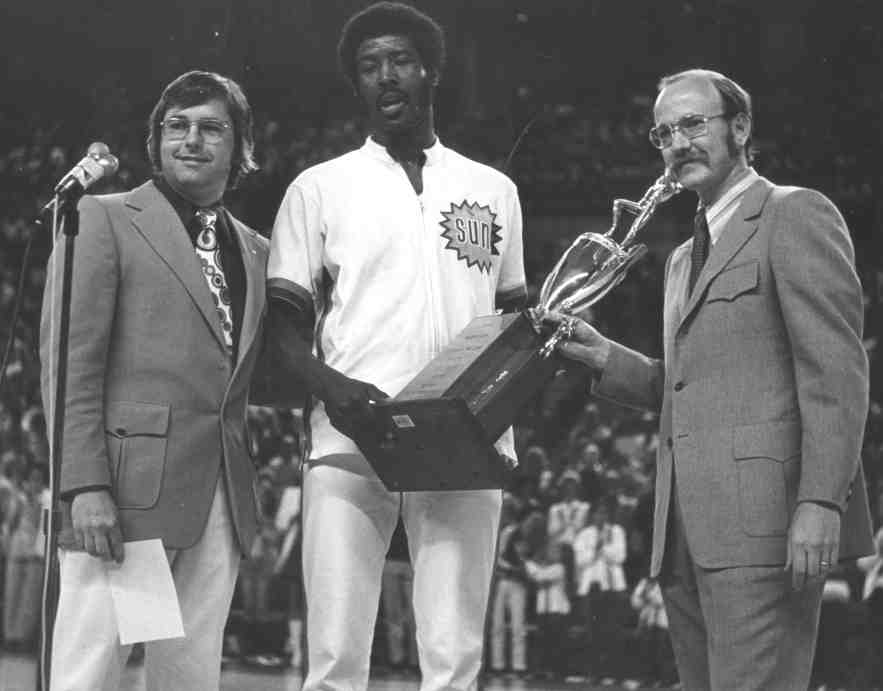 KTAR-TV was the station of the Phoenix Suns NBA Team.  While I was there I came up with the idea of awarding the SUNS MVP of the year.  So, I got to award it the first year, 1970, to Paul Silas.  Also in the picture is play by play man Joe McConnell.

A remote broadcast in the KAIR mobile unit with Jon Vos.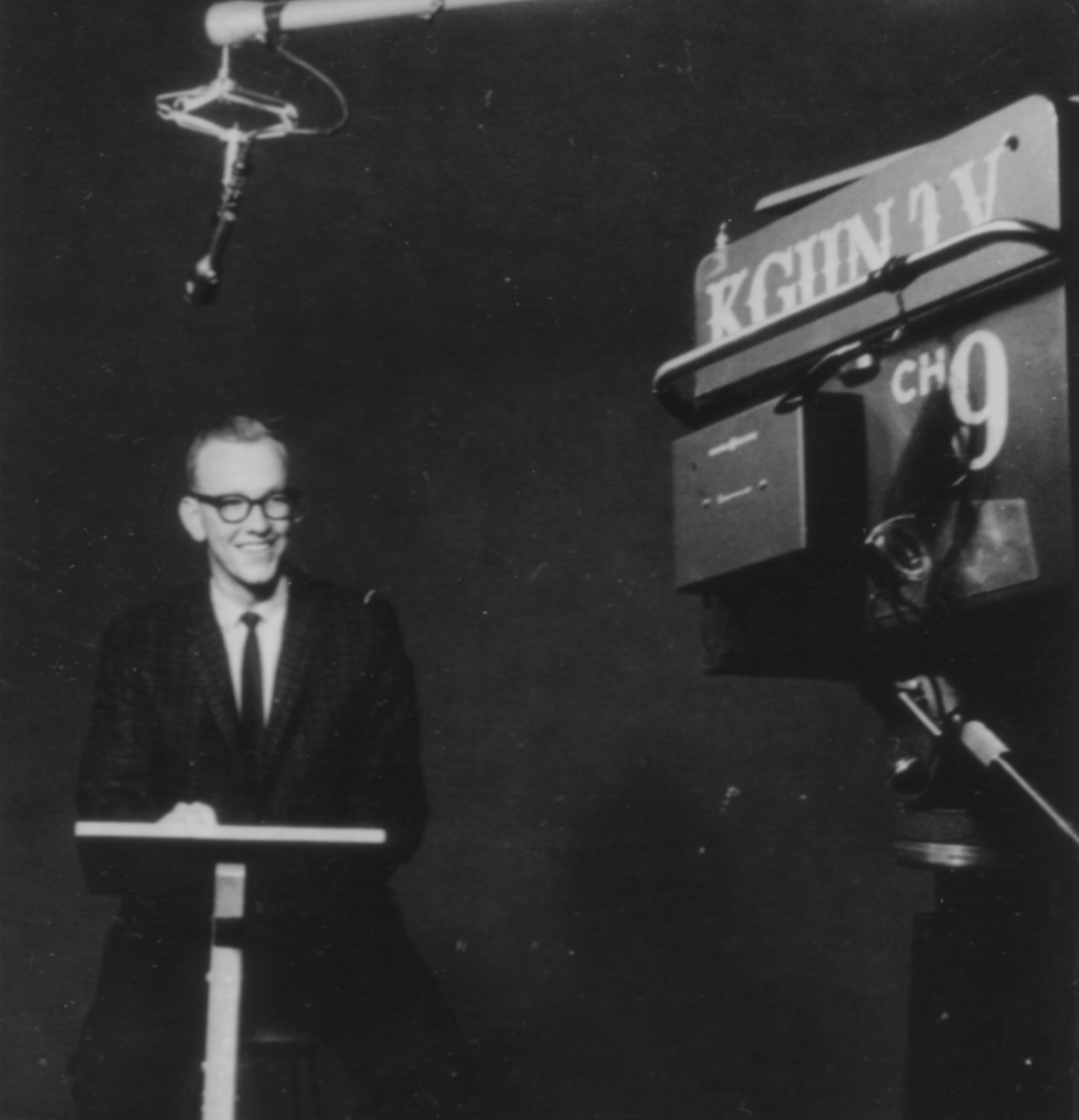 I did get a chance to do some on camera fill-in work even though I was only 19...and scared out of my wits the first time I was on.